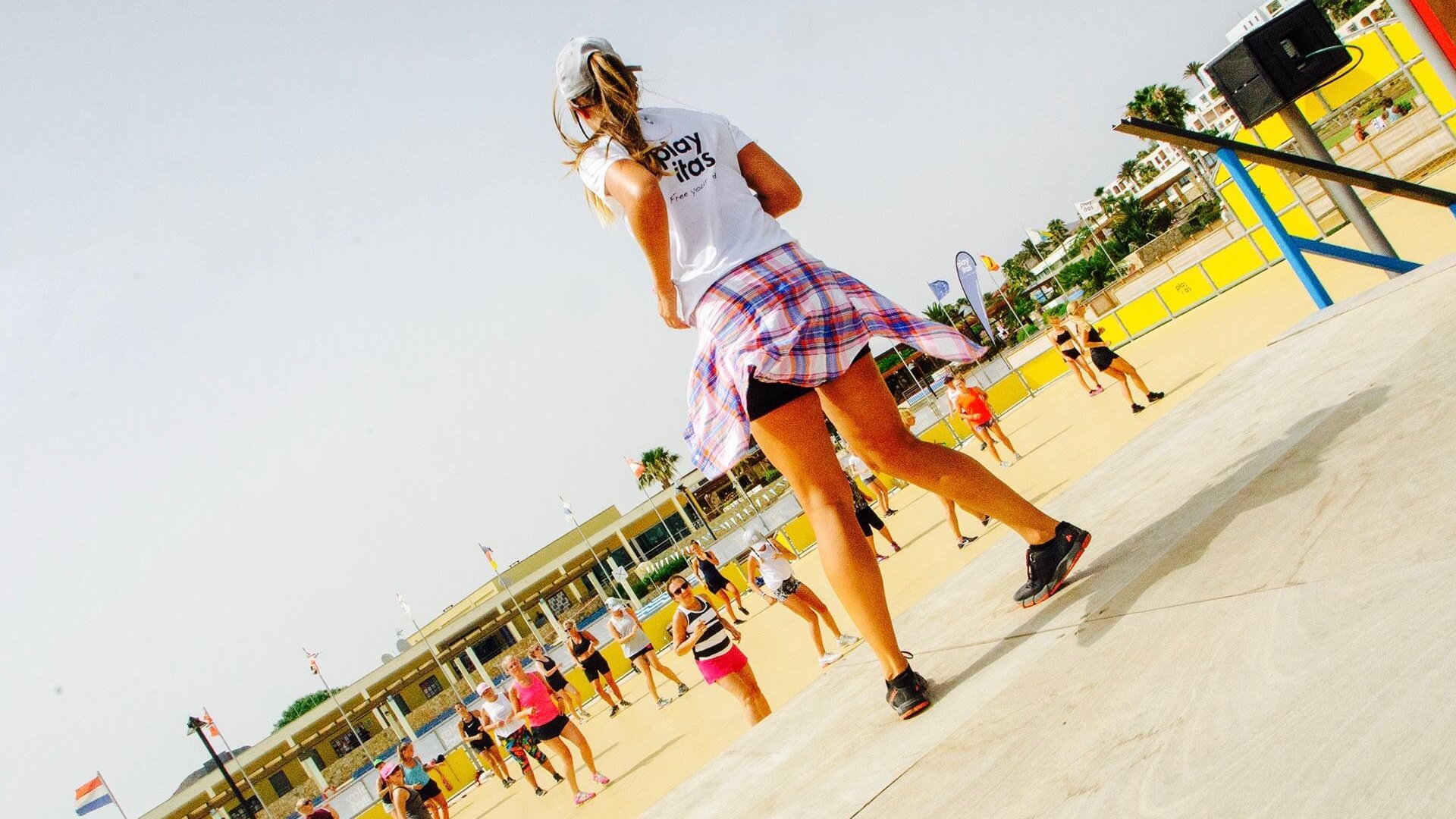 Playitas Sports
Dance Inspired
Enjoy fun fitness workouts that include many elements of dancing. Be outside and be part of an energetic group that is as passionate about moving and grooving as you are!
Let's Dance!
Get moving and enjoy the music!
With our Dance-Inspired Classes, experts and beginners will enjoy fun but full-power workouts.
Check the weekly sports programme for dates and schedules of dance classes.
Zumba
Zumba involves dance and aerobic movements performed to energetic music and are held for about 50 minutes.
The choreography incorporates
hip-hop

soca

samba

salsa

merengue and mambo steps

squats and lunges
You can burn between 500-1000 calories in one Zumba class, so it is one of the most beneficial workouts.
Also, it is safe for all ages, meaning that anyone from age 0 to 100 can participate in this form of aerobic exercise!
BodyJam
BodyJam is a dance inspired cardio workout that will teach you all the moves for you to be able to shake it like Beyonce, pop it like Usher and glide like Justin!
This class caters for beginners to total addicts.
Get dancing to the latest music with the freshest moves.
A Les Mills instructor will pump out energizing tunes and lead you through the workout – challenging your limits in a good way, burning up to 570 calories!
Dance Fusion
Dance Fusion is a track by track dance class for everyone from complete beginner to advanced dancer.
This class includes all styles of dance and music - from Hip-Hop to Latino Sounds and many more.
Join us for a fun dance session where moving to the coolest music will bring along a good mood!
Dance Aerobics
Dance Aerobics involves any kind of rythmic dance and can include everything from Zumba to Hip-Hop dancing.
A typical dance class usually begins with a five to ten minute warm-up, followed by a 20 to 30 minute aerobic routine, and ends with a five to ten minute cool-down-phase.
Street Dance
Hit the dance floor on a Saturday Night with confidence!
Our instructors are going to break it down and teach you all the moves for you to be able to show off cool moves on the dance floor or anywhere you want to perform!
The routines are simple, broken down and most of all: FUN!
Step
Step Training is still one of the most popular forms of aerobic training.
This class will enable you to learn all the different movements used in most Step Classes.
The movements are very easy to follow and you will be able to learn how to perform good techniques and train in a safe manner.
Fun Class
Join the Sports Team for a Fitness Party and try out different classes that contain elements of
Dancing

Boxing

Running

Jumping.
VeraFlow
Dance, stretch and find your true flow in this class like no other you have ever experienced.
VeraFlow is just what you need to feel completely relaxed. Find the balance between your body and mind as you stretch your body and train your mind to the rhythm of music.
Soma Move
Soma Move works with your body as resistance and with the ground as your tool.
The entire session is an uninterrupted flow of movement patterns in which the focus is to work with the body as a unit in harmony with the breathing!